Good night life fighter, what do you want to do when you see an invitation that you might have to get out of your city? Yes, this time I want to discuss about a trip that requires you to wrap up some of your clothes and bedding. Maybe for some people that travel is a normal thing, but it is different for some people who otherwise do not travel frequently, sometimes it is too heavy and even becomes a new challenge in life, that is life, we will never always be the same even though we are the same – enjoy life.
Maybe, the first thing you prepare for a trip is preparation. Of course, because that is the main thing in this game. And here you need a bag, maybe it's too small, then you have to have a suitcase. Yes, this suitcase is so helpful for everyone who wants to continue the trip.
After a suitcase, of course you need to choose some clothes that you have to carry, there you need an election. What clothes do you wear for the first day, what pants are suitable for the clothes you carry and which shoes might accompany your trip. Because to accompany a trip, it's not enough with the usual steps, but you need a tool as a replacement skin preparation.
Certainly choosing is not easy, because we do not want something that we bring in vain with the conditions during the trip, and we have a goal, of course all equipment should not be abandoned like wrong circumstances. Because it is useless if there is something to end up at the end of the goal in vain, it will only invite regret, and we have deliberately called for disappointment during life.
Here we are required to learn to choose, whatever happens you must still choose the best for you, no matter how important the clothes are to your body, because of course you cannot bring a closet for your week trip, then your final step is to choose some clothes that you will use during the trip. Because basically choosing for needs is more beautiful than choosing because of curiosity and trial and error.
You also have to maintain, maybe there are two pants that make your mood excited when using it, then accidentally there you are required to maintain a pair of pants that really deserve during this trip. Maintaining is not as easy as releasing, because it requires a long mind after the word chooses.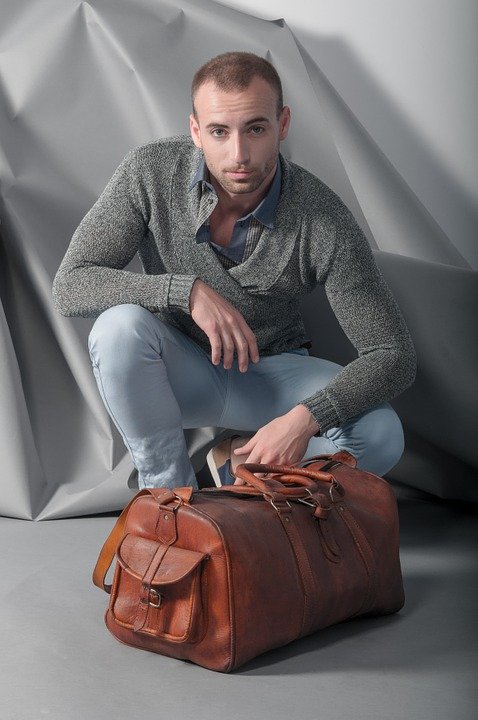 image source
Maybe before you've heard stories from the philosophy of suitcases, yes this problem has been written in a book. It is explained that life is a journey, and the heart is a suitcase. Right!, Life is a journey that requires us to determine a comfortable point during life. Maybe you are not required to be rich, but you are required to enjoy the happiness you will have. Because while waiting for death, you must seek happiness for the afterlife from the rigors of world life.
It will be the same as a suitcase and a choice of clothes, bring as much as you possibly can for you, and leave that which is completely useless during your trip. Get rid of your burdens, and keep away from problems that make you troublesome.
And hopefully on the road later you will find someone in the direction of your goals.
Back to the discussion of the trip, life is a journey like a train that is running. There is also a terminal for you to stop and wait for certainty. Go and go home, that's how it goes until you feel bored, not infrequently also that you will find an accident there, yes it is a travel knick that may not be liked by many people. But you must still accept that fact.
Many people will probably stop at a terminal, but you choose to continue with other terminals, there are even those who choose to go down in one third of the trip, and in fact that passengers with one car with you are no longer with you.
If you want to understand, that there are so many meetings and separations that occur. And the most important thing is how you have to be ready to let go of each separation gracefully.
It's true if someone says that success is based on how you establish relationships and determine each choice, because disappointment is one of the causes of failure for those who are desperate.
Perhaps the most serious mystery of your life is when you don't know which terminal will be your last choice, because sometimes we have a lot of desire but very little action we give. That will harm a situation that we pass.

vote steempress witnesses here : https://steemit.com/~witnesses
---
Indonesian version
Selamat malam pejuang kehidupan, apa yang ingin anda lakukan ketika melihat sebuah undangan yang mungkin anda harus keluar dari kota anda ?, iya kali ini saya ingin membahas tentang perjalanan yang mengharuskan anda untuk membungkus beberapa baju anda dan perlengkapan tidur. Mungkin untuk sebagian orang bahwa perjalan adalah hal yang biasa, namun berbeda untuk beberapa orang yang sebaliknya tidak sering melakukan perjalanan, kadang itu terlalu berat dan bahkan menjadi sebuah tantangan baru dalam kehidupan, benar itulah kehidupan, kita tidak akan selalu pernah sama walaupun sedang sama-sama menikmati kehidupan.
Mungkin, yang pertama sekali anda persiapkan untuk sebuah perjalanan adalah persiapan. Tentu, karena itu merupakan hal utama dalam permainan ini. Dan disini anda membutuhkan tas, mungkin juga terlalu kecil, maka anda harus mempunyai koper. Iya koper ini begitu membantu setiap orang yang ingin melanjutkan perjalanan.
Setelah koper, tentunya anda perlu memilih beberapa pakaian yang harus anda bawa, disana anda membutuhkan pemilihan. Baju apa yang anda pakai untuk hari pertama, celana apa yang cocok untuk baju yang anda bawa dan sepatu mana yang mungkin akan menemani perjalanan anda. Karena untuk menemani sebuah perjalanan, itu tidak cukup dengan langkah biasa, namun anda membutuhkan alat bantu sebagai persiapan kulit pengganti.
Sudah pasti memilih itu tidak mudah, karena kita tidak ingin sesuatu yang kita bawa sia-sia dengan keadaannya selama di perjalanan, dan kita mempunyai tujuan, sudah tentu segala perlengkapan itu tidak boleh terlantar seperti salah keadaan. Karena tidak guna jika ada mempertahankan sesuatu sampai di ujung tujuan akhirnya sia-sia, itu hanya akan mengundang pennyesalan, dan dengan sengaja kita sudah memanggil kekecewaan selama kehidupan.
Disini kita dituntut untuk belajar memilih, apa pun yang terjadi anda harus tetap memilih yang terbaik untuk anda, tidak peduli seberapa penting pakaian itu bagi tubuh anda, karena tentunya anda tidak mungkin membawa satu lemari untuk perjalan seminggu anda, maka tetaplah langkah terakhir anda adalah memilih beberapa baju yang akan anda gunakan selama masa perjalanan. Karena pada dasarnya memilih untuk kebutuhan lebih indah dibandingkan memilih karena rasa penasaran dan coba-coba.
Anda juga harus mempertahankan, mungkin ada dua celana yang menjadikan mood anda bergairah ketika menggunakannya, maka secara tidak sengaja disitu anda dituntut untuk mempertahankan satu celana yang benar-benar layak selama perjalanan ini. Mempertahankan tidak semudah melepaskan, karena itu membutuhkan pikiran panjang setelah kata memilih.
Mungkin sebelumnya anda sudah pernah mendengar cerita dari filosofi koper, iya masalah ini sudah ditulis dalam sebuah buku. Disana dijelaskan bahwa hidup adalah perjalanan, dan hati adalah koper. Benar !, hidup merupakan sebuah perjalanan yang mengaharuskan kita untuk menentukan titik nyaman selama kehidupan. Mungkin anda tidak dituntut untuk kaya, namun anda dituntut untuk menikmati kebahagiaan yang akan anda punya. Karena sambil menunggu kematian, anda harus mencari kebahagiaan untuk urusan akhirat dari kerasnya kehidupan dunia.
Itu akan sama halnya dengan koper dan baju pilihan, bawa secukupnya yang mungkin perlu untuk anda, dan tinggalkan yang sama sekali tidak bermanfaat selama perjalanan anda. Singkirkan yang memberatkan anda, dan jauhkan dari masalah yang membuat anda merepotkan.
Dan semoga diperjalanan nanti kamu akan menemukan seseorang yang searah dengan tujuan anda.
Kembali kepada pembahasan perjalanan, hidup adalah perjalanan layaknya kereta yang sedang berjalan. Terdapat juga terminal untuk anda berhenti dan menungu kepastian. Pergi dan pulang, begitulah seterusnya hingga anda merasakan bosan, tidak jarang juga bahwa anda akan menemukan kecelakaan disana, iyaa itu merupakan pernak pernik perjalanan yang mungkin tidak disukai banyak orang. Namun anda harus tetap menerima kenyataan itu.
Banyak orang yang mungkin akan berhenti disebuah terminal, namun anda memilih untuk melanjutkan keterminal yang lain, bahkan ada juga mereka yang memilih untuk turun di sepertiga perjalanan, dan secara nyata bahwa penumpang yang satu mobil dengan anda sudah tidak lagi bersama anda.
Jika anda ingin memahami, bahwa disana begitu banyak pertemuan dan perpisahan yang terjadi. Dan yang terpenting adalah bagaimana anda harus siap untuk melepaskan setiap perpisahan dengan lapang dada.
Sangat benar jika seseorang mengatakan bahwa sukses itu tergatung dari bagaimana anda menjalin hubungan dan menentukan setiap pilihan, karena kekecewaan merupakan salah satu penyebab kegagalan bagi mereka yang putus asa.
Mungkin misteri yang paling serius selama hidup anda adalah ketika anda tidak tau terminal mana yang akan menjadi pilihan terakhir anda, karena terkadang kita memiliki banyak keinginan namun sangat sedikit aksi yang kita berikan. Hal itu akan merugikan sebuah keadaan yang kita lewati.

vote steempress witnesses here : https://steemit.com/~witnesses



---
---