Life after death | How will you believe that life after death exists? Of course you will find various versions of answers according to one's level of ability, but you will still believe that life after death is still there. But from whom do you have to know that, isn't someone who is dead unable to retell what he feels there? Yes, right, even he is no longer seen because you have already buried his body into an empty land.
You cannot run away from this reality, we have two parts to enjoy every game, he is alive and dead, first is life in the world and second is life of death, life to die is very true, then for what we live, is it just to wait die or to enjoy the days while waiting to die.
You and your game, how you master every chance of life to serve a temporary body, whether it's just a trial and error or indeed to enjoy real life, it all depends on how you will develop that role. But you still control your body, because apart from the predetermined destiny, our task is to realize that destiny.
But for every Muslim, life in the world is only as a place to find supplies, because what you get here is proof for nature after death, depending on how someone enjoys life, if misdirected then all who will be accounted for will also be misguided, Muslims believe that life the world is only the beginning and the eternal is only life after death. And the real concept on earth is only for the future after that life, they really have to believe that.
Maybe a question arises for that, who will give life to the bone when all the contents of the body have been destroyed ?, hmm seen a question that is difficult to answer, but you should not consider this problem weak, even you have to believe that a tree has dead can grow back as he first appeared. It is a proof that what is not possible for us is real to the creator.
But there are also those who have the assumption that death and life, death is only a loss to replace some other human beings who will live, and all that will be eliminated because of time, how you have to believe this opinion, but that is up to you. Believing whether or not you like this problem depends on the faith you have today.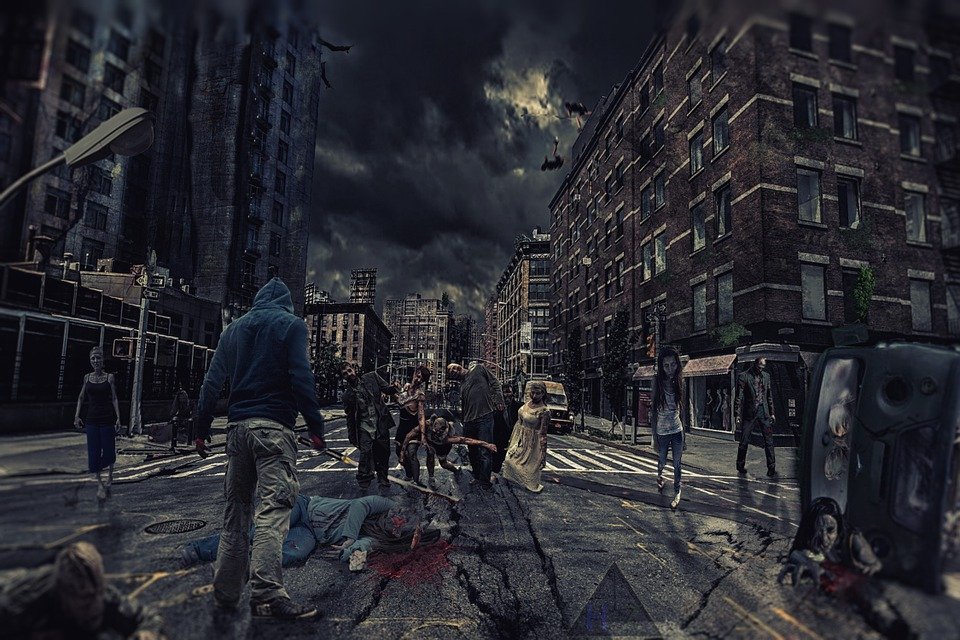 image source
But what happens after death ?
A rough answer is loss, but this is a stupid answer to what I am talking about. Maybe a loss is the hardest thing for anyone you leave. If you don't believe, maybe you are one who has never felt the pain of losing.
Spiritual research shows that humans consist of four basic bodies in their lives, they are physical, mental, intellectual / causal and and supracausal.
"Supracausal or subtle ego is the last remnant of ignorance of the true nature of man and is a feeling that we humans are separate from God. And the causal body is part of human nature which is directly related to the decision-making process and logical ability. The related organ is brain.
And where is life after death. When someone has died, something stops to live and does not function at all, all will be rigid as if an ordinary doll has no meaning, it is your body. But the rest of the existence of the others will continue, the delicate body which is embedded in the causal, supracausal will remain alive and walk with its condition, and then this subtle body will walk into the realm of existence other than the earth.
Another realm of existence is hell and heaven, where this level is occupied by all lives that have lived with positive and negative levels. Spiritual who have a good level of life and never do a level of chaos will have a positive place, that's the general conclusion for a final achievement, and likewise the level of chaos throughout life will enjoy negative results.

vote steempress witnesses here : https://steemit.com/~witnesses
---
---

image source
Indonesian Version
Bagaimana anda akan percaya bahwa kehidupan setelah kematian itu ada ?, tentunya anda akan menemukan berbagai macam versi jawaban sesuai tingkat kemampuan seseorang, yang namun anda tetap akan percaya bahwa kehidupan setelah kemtian itu tetap ada. Tapi dari siapa anda harus mengetahui itu ?, bukankah seseorang yang sudah mati tidak dapat menceritakan kembali apa yang dia rasakan disana ?, iya tepat sekali, bahkan dia tidak lagi terlihat karena anda sudah membung tubuhnya kedalam tanah kosong.
Anda tidak bisa lari dari kenyataan ini, kita mempunyai dua bagian untuk menikmati setiap permainan, dia adalah hidup dan mati, pertama adalah kehidupan didunia dan kedua merupakan kehidupan kematian, hidup untuk mati itu sangat benar, lantas untuk apa kita hidup, apakah hanya untuk menunggu mati atau untuk menikmati hari-hari sambil menunggu mati.
Anda dan permainan anda, bagaimana anda menguasai setiap kesempatan kehidupan untuk melayani tubuh yang bersifat sementara, apakah hanya sekedar coba-coba atau memang untuk menikmati kehidupan yang sesungguhnya, itu semua tergantung dari bagaimana anda akan mengembangkan peran itu. Yang namun anda tetaplah pengendali tubuh anda, karena selain dari takdir yang sudah ditentukan, tugas kita adalah mewujudkan takdir itu.
Namun bagi setiap muslim, kehidupan didunia hanyalah sebagai tempat mencari bekal, karena apa yang anda dapatkan disini merupakan pembuktian untuk alam setelah kematian, tergantung bagaimana seseorang menikmati kehidupan, jika salah arah maka semua yang akan dipertanggung jawabkan juga akan salah langkah, muslim percaya bahwa kehidupan dunia hanyalah permulaan dan yang abadi hanyalah kehidupan setelah kematian. Dan konsep sebenarnya dibumi hanyalah untuk masa depan setelah itu hidup, mereka benar-benar harus percaya itu.
Mungkin sebuah pertanyaan muncul untuk itu, siapakah yang akan memberikan kehidupan kepada tulang ketika semua isi tubuh sudah hancur ?, hmm terlihat sebuah pertanyaan yang memang sulit untuk dijawab, tapi anda tidak boleh menganggap lemah masalah ini, bahkan anda harus percaya bahwa sebuah pohon yang sudah mati bisa tumbuh kembali seperti pertama dia muncul. Itu merupakan sebuah bukti bahwa apa yang tidak mungkin bagi kita namun nyata pada sang pencipta. Life after death.
Tapi ada juga yang memiliki asumsi bahwa mati dan hidup, kematian hanya sebuah kehilangan untuk menggantikan beberapa manusia lain yang akan hidup, dan semua itu akan dihilangkan karena waktu, bagaimana anda harus percaya pendapat ini, namun itu semua terserah anda. Percaya tidaknya anda kepada masalah ini tergantung dari iman yang anda punya saat ini.
Namun apa yang terjadi setelah kamatian ?,
Jawaban kasar adalah kehilangan, tapi ini merupakan jawaban bodoh dari maksud yang sedang saya bicarakan. Mungkin sebuah kehilangan merupakan hal yang terberat bagi siapa saja yang anda tinggalkan. Jika anda tidak percaya, mungkin anda merupakan salah satu yang belum pernah meraskan sakitnya kehilangan.
Penelitian spiritual menunjukkan bahwa manusia terdiri dari empat tubuh dasar dalam kehidupannya, dia adalah fisik, mental, intelektual/kausal dan dan suprakausal.
"Suprakausal atau ego halus merupakan sisa-sisa terakhir dari ketidaktahuan akan hakikat sejati manusia dan merupakan sebuah perasaan bahwa kita manusia terpisah dari tuhan. Dan tubuh kausal merupakan bagian dari hakikat manusia yang berkaitan langsung dengan proses pengambilan keputusan serta kemampuan logika. Organ yang terkait adalah otak.
Dan kemana kehidupan setelah meninggal. Ketika seseorang sudah meninggal, ada sesuatu yang berhenti untuk hidup dan sama sekali tidak berfungsi lagi, semua akan kaku seolah seperti boneka biasa yang tidak mempunyai arti, dia merupakan tubuh anda. Namun sisa eksistensi dari yang lain akan terus berlanjut, tubuh halus yang terdidi dari kausal, supracausal akan tetap hidup dan berjalan dengan keadaannya, dan kemudian tubuh halus ini akan berjalan ke alam eksistensi selain bumi.
Alam eksistensi lain merupakan neraka dan surga, dimana tingkat ini diduduki oleh semua kehidupan yang pernah hidup dengan tingkat positif dan negatif. Rohani yang memiliki tingkat kehidupan yang baik dan tidak pernah melakukan tingkat kekacauan akan memiliki tempat yang positif, begitulah kesimpulan umum untuk sebuah pencapaian akhir, dan begitu juga sebaliknya tingkat kekacauan selama hidup akan menikmati hasil yang negatif.
---

vote steempress witnesses here : https://steemit.com/~witnesses



---
---